Engineering in Construction (Support to General Contracting)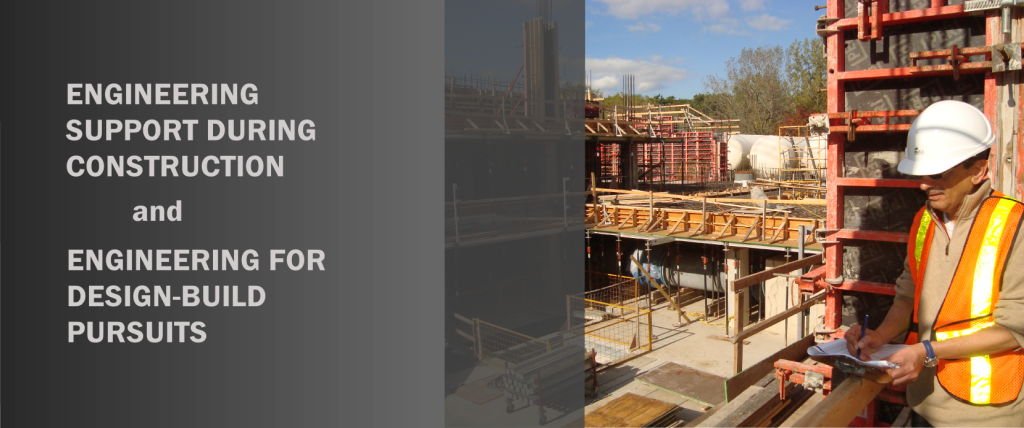 After more than 20 years of experience on various construction projects, we have a lot to offer to general contractors and their sub-contractors. Since we are one of the few companies in Ontario with staff that was engaged both with design and construction firms, general contractors and suppliers refer to our expertize during bidding, construction and commissioning phases.
Our typical roles during construction include expert engineering advise, design various components of the work that is considered as temporary construction, performance specified permanent installations and/or manage startup of a complicated mechanical system.

Services:
Offer:
engineering and design of various platforms, pipe supports, cranes, etc. in aluminum, FRP, steel and other materials,
drafting, production and tracking of shop drawings,
pump supports, equipment bases, pipe support and hanger design in non-seismic and seismic zones,
underpinning design,
top-down construction,
temporary shoring and caisson design,
exhaust stack and chimney design for various industrial and municipal applications,
engineering design and support for special construction, such as concrete mixes, steel tanks, silos, elevated tanks, etc.
scheduling,
commissioning,
dispute resolution and litigation support (post-construction),
engineering for design-build projects.

Recent Projects:
Success Stories:
Romag Contracting Ltd.
PROF&E provided engineering support on several major water infrastructure projects for various municipalities. With our support, the contractor provided a better quality product at a lower cost that was constructed in less time than originally scheduled.
---

ASCO Construction Ltd.
ASCO engaged PROF&E at Oro-Medonte Sludge Holding Facility project for the City of Barrie to investigate nature of excessive concrete cracking in the roof slabs. Our senior experts summarized their findings in a comprehensive assessment report that covered design, construction, detailing and quality control aspect of the project that caused observed deficiencies.
Know More ->
---

W.A. Stephenson Mechanical
On Leslie SPS project for the City of Toronto, our team successfully designed permanent steel pipe supports, monorails, pump pads for major sewage pumps, line shaft supports, etc.
Representative Service Lines:


FRP, Aluminum, Steel
Access Platforms

Seismic Design
Pipe Hangers & Supports

Light Metal Framing
Roof Monitor (Skylights)

Temporary and Permanent
Shoring & Caissons

Concrete
Buildings, Reservoirs

Concrete & Steel
Equipment Supports